Master Your Mind – Breakthrough Weekend
Next Weekend – Queenstown: 20th and 21st July 2019
Take your personal and professional growth to the next level and come along to our eye opening NLP Coaching and Time Line Therapy® seminar that will teach you how you can live life to reach your full potential and create positive change instantly.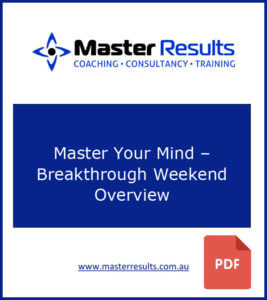 At the Master Your Mind – Breakthrough Weekend, you will select an area of your life to hold as the focus of the weekend, and essentially clean the slate whilst taking yourself to the next level. The focus is to change your mindset, which will change your attitude. As a result, your energy, confidence and motivation to achieve will skyrocket. Make this the weekend you change your life!
Master your Mind – breakthrough weekend is a powerful introductory two day course to understanding the fundamental components to creating a future you desire. The course runs over two consecutive days and addresses a number of topics. The course focuses on a practical aspect of the skills and will not only teach you the principles, yet allow you to experience the effects for yourself.
There are key areas that will be covered within the course.
Understand the power of our thoughts and Mindset
Remove personal barriers and create powerful strategies to create your results
Develop and foster respectful, loving and fulfilling relationships in all areas including family, friendships, and working colleagues.
Identify the life you desire
Your Personal Development Investment
Master your Life, Create your Results
Total course cost –  $295.00 (inc.GST) (Early Bird Rate- $149.00 (inc.GST))
2 days
Course Manual
Follow up support to implement strategies